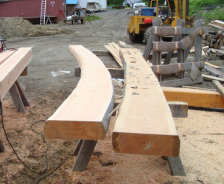 Our Timber frame and Log buildings have unique character. Often using natural curves, and character wood, we take pride in adding flare to your home. Trained in traditional European joinery, we strive to produce the finest quality at an affordable price. With a fully equipped cabinet shop, we offer solid wood staircases, kitchens, flooring, solid wood doors and windows, all locally made and at a competitive price.

All of our high quality wood is sourced locally in the Arrow Lakes, and sawn on a band sawmill. Capable of sawing timbers to 40 foot in length we also offer timber and wood sales, tongue and groove, and cedar decking. Dry, dead standing wood is available, also clear and heart free. With an abundance of Douglas fir in the area, we are generally cutting frames of fir, but also have worked with cedar, hemlock, and white pine.

Emphasizing on the whole, taking pride in carrying a product from start to finish, utilizing local resources and functional design, are all the driving objectives of our small company. The end result is a high quality, durable product that meets our clients' needs and suits the landscape.
---